AZD-5438
Potent CDK1/2/9 inhibitor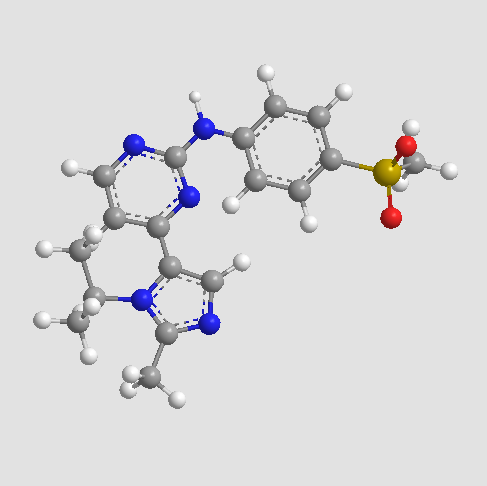 Sample solution is provided at 25 µL, 10mM.
Publications citing ApexBio Products
Related Compound Libraries
Quality Control
Quality Control & MSDS
View current batch:
Chemical structure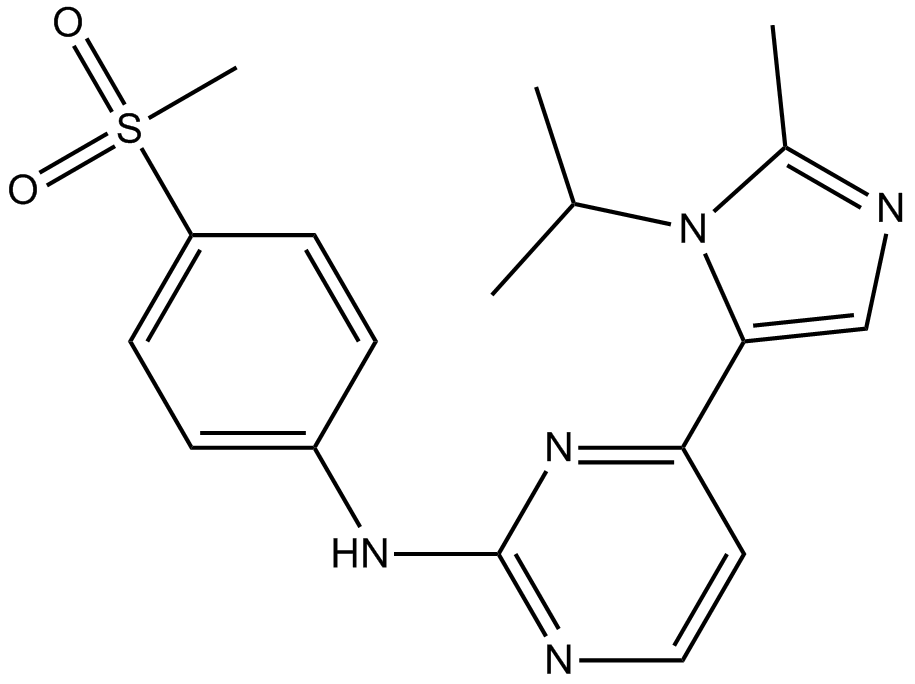 Related Biological Data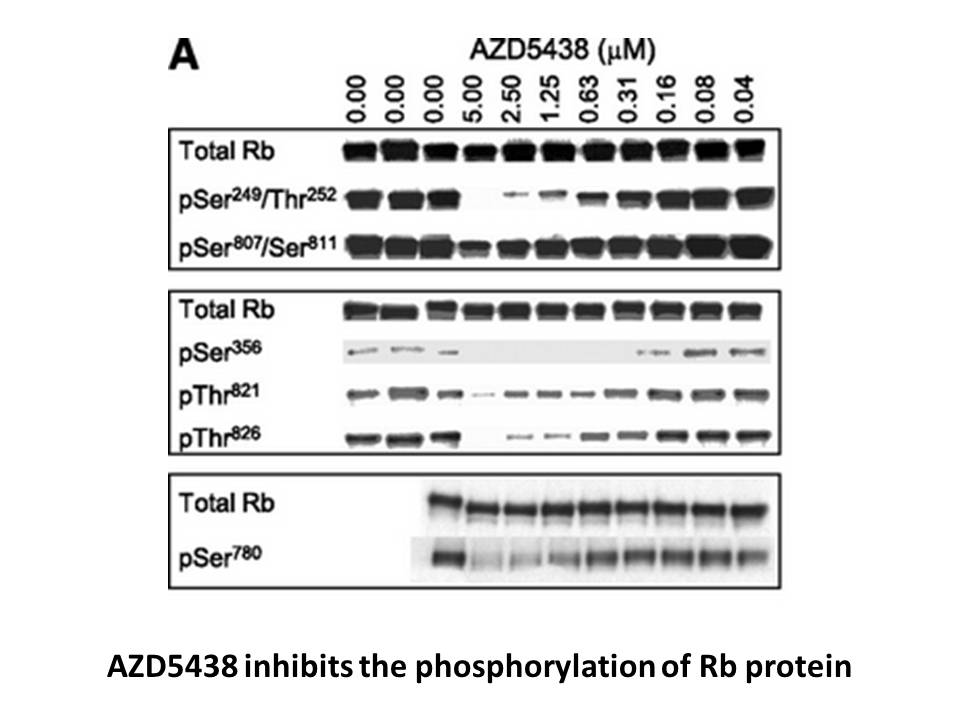 Related Biological Data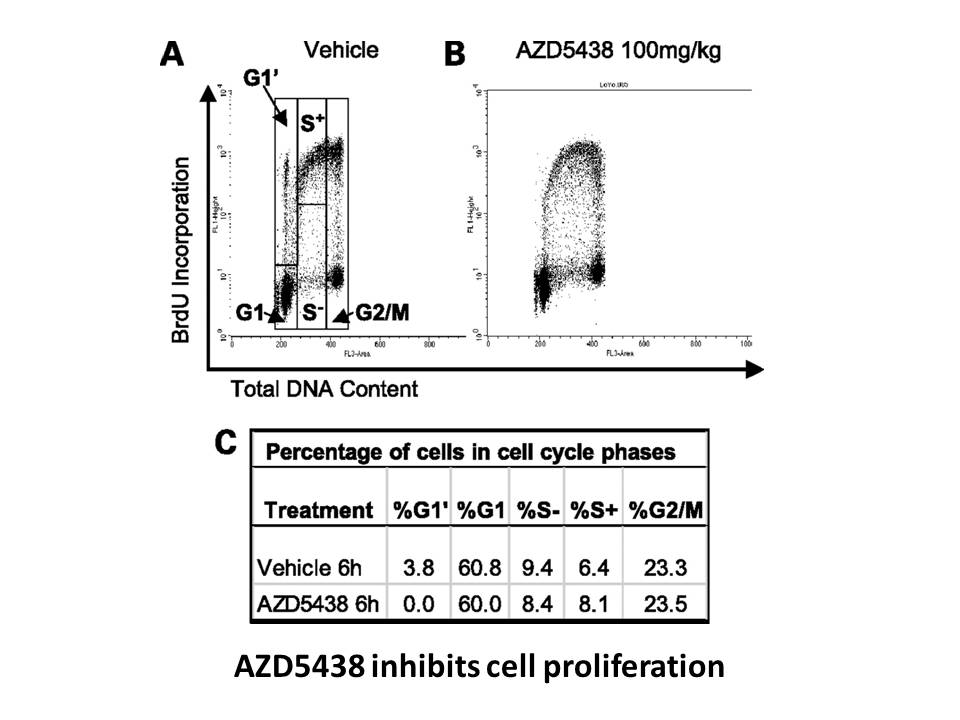 Biological Activity
Description
AZD5438 is a potent inhibitor of CDK1/2/9 with IC50 of 16 nM/6 nM/20 nM.
Targets
CDK1
CDK2
CDK9
IC50
16 nM
6 nM
20 nM
Chemical Properties
Cas No.
602306-29-6
SDF
Download SDF
Synonyms
AZD 5438;AZD5438
Chemical Name
4-(2-methyl-3-propan-2-ylimidazol-4-yl)-N-(4-methylsulfonylphenyl)pyrimidin-2-amine
Canonical SMILES
CC1=NC=C(N1C(C)C)C2=NC(=NC=C2)NC3=CC=C(C=C3)S(=O)(=O)C
Formula
C18H21N5O2S
M.Wt

371.46

Solubility
>18.6mg/mL in DMSO
Storage
Store at -20°C
General tips
N/A
Shipping Condition
N/A
View Related Products By Research Topics
Background
AZD5438 is a potent small molecule inhibitor of cyclin-dependent kinase (CDK) 1, 2 and 9 with half maximal inhibitory concentration IC50 of 16 nmol/L, 6 nmol/L and 20 nmol/L respectively. AZD5438 has also been found to potently inhibit the human cyclin E/CDK2 complex, the cyclin B1/CDK1 complex and the cyclin A/CDK2 complex with IC50 of 0.006 μM, 0.016 μM and 0.045 μM respectively. In previous studies, AZD5438 has exhibited significant anti-proliferative activity in a few human tumor cell lines with IC50 ranging from 0.2 μmol/L to 1.7 μmol/L, in which the phosphorylation of a few proteins, including CDK substrates pRb, nucleolin, protein phosphatase 1a and RNA polymerase II COOH-terminal domain, and cell cycling at G2-M, S and G1 phases were inhibited.
References:
[1]Camidge DR1, Smethurst D, Growcott J, Barrass NC, Foster JR, Febbraro S, Swaisland H, Hughes A. A first-in-man phase I tolerability and pharmacokinetic study of the cyclin-dependent kinase-inhibitor AZD5438 in healthy male volunteers. Cancer Chemother Pharmacol. 2007 Aug;60(3):391-8. Epub 2006 Nov 18.
[2]Byth KF, Thomas A, Hughes G, Forder C, McGregor A, Geh C, Oakes S, Green C, Walker M, Newcombe N, Green S, Growcott J, Barker A, Wilkinson RW. AZD5438, a potent oral inhibitor of cyclin-dependent kinases 1, 2, and 9, leads to pharmacodynamic changes and potent antitumor effects in human tumor xenografts. Mol Cancer Ther. 2009 Jul;8(7):1856-66. doi: 10.1158/1535-7163.MCT-08-0836. Epub 2009 Jun 9.