ARRY-380
Tyrosine kinase HER2 and p95-HER2 inhibitor
Sample solution is provided at 25 µL, 10mM.
Publications citing ApexBio Products
Related Compound Libraries
Quality Control
Quality Control & MSDS
View current batch:
Chemical structure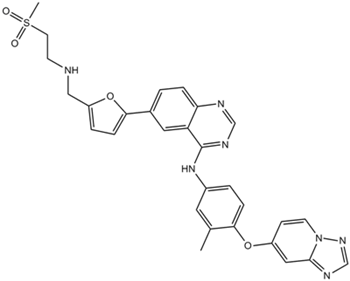 Biological Activity
Description
ARRY-380 is an orally bioavailable, potent, selective, small-molecule inhibitor of tyrosine kinase HER2 and p95-HER2 with an IC50 of 8 and 7 nM, respectively.
Targets
p95-HER2
HER2
EGFR
IC50
7 nM
8 nM
4 μM
Chemical Properties
Cas No.
937265-83-3
SDF
Download SDF
Synonyms
ARRY380; ARRY 380
Chemical Name
6-[5-[(2-methylsulfonylethylamino)methyl]furan-2-yl]-N-[3-methyl-4-([1,2,4]triazolo[1,5-a]pyridin-7-yloxy)phenyl]quinazolin-4-amine
Canonical SMILES
CC1=C(C=CC(=C1)NC2=NC=NC3=C2C=C(C=C3)C4=CC=C(O4)CNCCS(=O)(=O)C)OC5=CC6=NC=NN6C=C5
Formula
C29H27N7O4S
M.Wt

569.63

Solubility
Soluble in DMSO > 10 mM
Storage
Store at -20°C
General tips
For obtaining a higher solubility , please warm the tube at 37 ℃ and shake it in the ultrasonic bath for a while.Stock solution can be stored below -20℃ for several months.
Shipping Condition
Evaluation sample solution : ship with blue ice
All other available size: ship with RT , or blue ice upon request
Background
IC50: 8 nM (HER2)
HER2 is a member of the human epidermal growth factor receptor (HER/EGFR/ERBB) family. Amplification or overexpression of this oncogene has been shown to play an important role in the development and progression of certain aggressive types of breast cancer. ARRY-380 is an orally bioavailable inhibitor of the human epidermal growth factor receptor tyrosine kinase ErbB-2 (also called HER2) with potential antineoplastic activity.
In vitro: ARRY-380 is reported to be a reversible, ATP-competitive inhibitor with nanomolar activity against HER2 enzyme. In cell-based assays, ARRY-380 is ~500-fold selective for HER2 vs. EGFR and is equipotent against truncated p95-HER2 [1].
In vivo: ARRY-380 treatment significantly enhances survival in two ErbB2 driven intracranial tumor xenograft models, with superior activity compared to other ErbB2 agents in these studies. Additionally, ARRY-380 has demonstrated durable clinical activity in heavily pre-treated patients with ErbB2+ MBC. These preclinical and clinical data suggest that ARRY-380 may provide benefit to patients with ErbB2+ MBC with brain metastases. These preclinical and clinical data suggest that ARRY-380 may provide benefit to patients with ErbB2+ MBC with brain metastases and warrants further study [2].
Clinical trial: In a phase 1 clinical trial, 15 patients have been treated in 5 dosing cohorts at doses of 25 to 300 mg BID. No DLTs have been observed and drug-related adverse events have included Grade 1 nausea, rash and fatigue and Grade 2 fatigue in 2 patients at the 200 mg BID dose level. Preliminary PK analyses indicate a trend for increasing Cmax and AUC with increasing dose, a median Tmax of 2 hours and a mean t1/2 of 4.6 hours across all cohorts. Two patients with HER2+ breast cancer have had stable disease for ≥ 4 months with no significant toxicity. One of these two patients had a notable reduction in liver metastases (28%) after 2 cycles of ARRY-380 and is currently on study.These findings indicate ARRY-380 has demonstrated an acceptable safety and PK profile and preliminary signs of clinical benefit. Dose escalation continues to determine the MTD [3].
References:
[1] S. L. Moulder, V. Borges, S. K. L. Chia, T. Baetz, E. Barrett, J. Garrus, K. Guthrie, C. Kass, E. Laird, J. Lyssikatos, F. Marmsater, E. Wallace. ARRY-380, a Selective HER2 Inhibitor: From Drug Design to Clinical Evaluation. Poster of AACR-NCI-EORTC, Nov 12-16, 2011, San Francisco, CA.
[2] Victoria Dinkel, Deborah Anderson, Shannon Winski, Jim Winkler, Kevin Koch and Patrice Lee. ARRY-380, a potent, small molecule inhibitor of ErbB2, increases survival in intracranial ErbB2+ xenograft models in mice. Poster available at www.arraybiopharma.com
[3] S. Chia, T. Baetz, S. D'Aloisio, G. Fernetich, B. Freeman, E. Barrett, C. Kass, J. Kang, B. Sajan, S. Moulder, and J. Garrus. A Phase 1 Study To Assess the Safety, Tolerability and Pharmacokinetics of ARRY-380 – An Oral Inhibitor of HER2. Cancer Res 2009;69(24 Suppl):Abstract nr 5111.