Background
AM966 is a selective, potent and orally bioavailable antagonist of lysophosphatidic acid type 1 receptor (LPA1) with IC50 values of 17 and 19 nM for human or mouse LPA1, respectively [1]. Relative to LPA2, 3, 4, 5 receptors, AM966 shows 10-fold and 100-fold more selective in mouse and human cell lines for LPA1, respectively [1].
In vitro, AM966 shows to inhibit LPA-induced chemotaxis in IMR-90 human lung fibroblasts, A2058 human melanoma cells and CHO cells expressing LPA1 receptors [1].
In vivo, AM966 has been demonstrated to reduce total BALF cells, LDH activity, BALF collagen and total TGFβ concentrations in bleomycin-induced mice. Moreover, AM966 has been reported to block lung fibrosis, reduce lung inflammation and maintain body weight in mice induced by bleomycin [1].
Reference:
[1] Swaney JS1, Chapman C, Correa LD, Stebbins KJ, Bundey RA, Prodanovich PC, Fagan P, Baccei CS, Santini AM, Hutchinson JH, Seiders TJ,Parr TA, Prasit P, Evans JF, Lorrain DS.  A novel, orally active LPA(1) receptor antagonist inhibits lung fibrosis in the mouse bleomycin model. Br J Pharmacol. 2010 Aug;160(7):1699-713.
Product Citation
Chemical Properties
| | |
| --- | --- |
| Physical Appearance | A solid |
| Storage | Store at -20°C |
| M.Wt | 490.93 |
| Cas No. | 1228690-19-4 |
| Formula | C27H23ClN2O5 |
| Synonyms | AM 966;AM-966 |
| Solubility | ≥24.55 mg/mL in DMSO; insoluble in H2O; ≥2.24 mg/mL in EtOH with gentle warming and ultrasonic |
| Chemical Name | 2-[4-[4-[4-[[(1R)-1-(2-chlorophenyl)ethoxy]carbonylamino]-3-methyl-1,2-oxazol-5-yl]phenyl]phenyl]acetic acid |
| SDF | Download SDF |
| Canonical SMILES | CC1=NOC(=C1NC(=O)OC(C)C2=CC=CC=C2Cl)C3=CC=C(C=C3)C4=CC=C(C=C4)CC(=O)O |
| Shipping Condition | Ship with blue ice, or upon other requests. |
| General tips | For obtaining a higher solubility, please warm the tube at 37°C and shake it in the ultrasonic bath for a while. |
Protocol
Cell experiment: [1]

Cell lines

CHO cells (stably expressing human LPA1 or mouse LPA1)

Preparation method

The solubility of this compound in DMSO is >10 mM. General tips for obtaining a higher concentration: Please warm the tube at 37 °C for 10 minutes and/or shake it in the ultrasonic bath for a while.Stock solution can be stored below -20°C for several months.

Reaction Conditions

100 nM, 30 min for 100% calcium release inhibition 469 nM, 15 min for chemotaxis inhibition (IC50)

Applications

CHO cells were pre-treated with increasing concentrations of AM966 for 30 min and then stimulated with LPA (10–30 nM) and calcium release was measured. AM966 inhibited LPA-stimulated intracellular calcium release from CHO cells stably expressing human and mouse LPA1 receptors. AM966 was also evaluated for inhibition of LPA-induced chemotaxis in CHO cells stably expressing mouse LPA1 receptors. The IC50 value was 469±54 nM.

Animal experiment: [1]

Animal models

Female C57BL/6 mice

Dosage form

Oral administration, 30 or 60 mg/kg, twice daily

Applications

No reduction in lung fibrosis was observed in response to low dose AM966 (10 mg·kg-1). However, AM966 at 30 and 60 mg·kg-1 dramatically reduced lung tissue remodelling and fibrosis so that lung architecture in these groups was similar to that of the vehicle group.

Other notes

Please test the solubility of all compounds indoor, and the actual solubility may slightly differ with the theoretical value. This is caused by an experimental system error and it is normal.

References:

[1] Swaney J S, Chapman C, Correa L D, et al. A novel, orally active LPA1 receptor antagonist inhibits lung fibrosis in the mouse bleomycin model. British journal of pharmacology, 2010, 160(7): 1699-1713.
Biological Activity
Description
AM966 is a high affinity, selective, oral antagonist of LPA1 receptor (lysophosphatidic acid receptor) with an IC50 value of 17 nM.
Targets
LPA1 receptor
IC50
17 nM
Quality Control
Quality Control & MSDS
View current batch:
Chemical structure Related Biological Data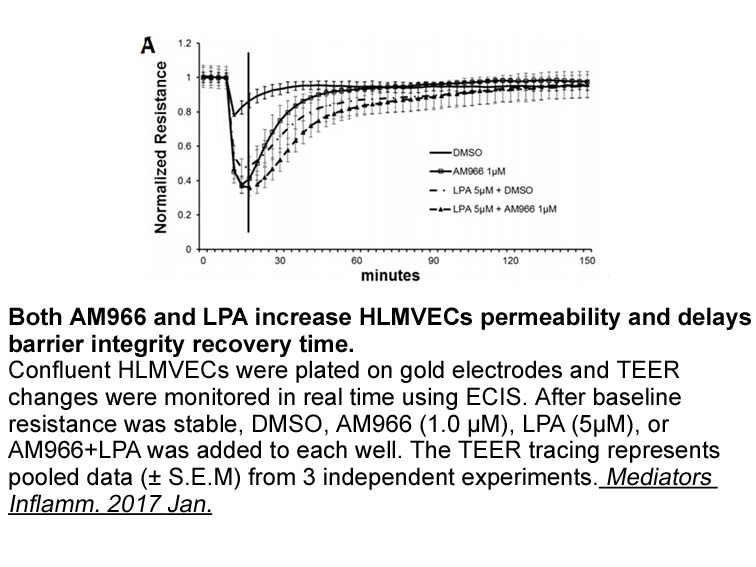 Related Biological Data