Background
AM 281 is a potent and selective antagonist/inverse agonist of CB1 cannabinoid receptor with Ki values of 12 and 4200 nM for CB1 and CB2 receptors, respectively [1].
CB1 cannabinoid receptor is a G protein-coupled receptor and is mainly expressed in the brain. Cannabinoid receptors play an important role in memory, mood, appetite and pain-sensation.
AM 281 is a potent and selective CB1 cannabinoid receptor antagonist/inverse agonist. In rat forebrain membranes, AM281 exhibited high affinity for CB1 receptor with Ki value of 12 nM. In mouse spleen membrane, AM281 exhibited very low affinity for CB2 receptor with Ki value of 4200 nM [1]. In mouse cerebellar homogenates, AM281 exhibited affinities for CB1 receptor with Ki values of 1.8, 2.8, 84, 208 and 2512 nM when competed with SR141716A, CP55,940, WIN 55,212-2, THC and methanandamide, respectively [2].
In morphine withdrawal mice, AM281 (2.5 mg/kg) significantly improved the memory impairment caused by morphine withdrawal [3].
References:
[1].  Lan R, Gatley J, Lu Q, et al. Design and synthesis of the CB1 selective cannabinoid antagonist AM281: a potential human SPECT ligand. AAPS PharmSci, 1999, 1(2): E4.
[2].  Gatley SJ, Lan R, Volkow ND, et al. Imaging the brain marijuana receptor: development of a radioligand that binds to cannabinoid CB1 receptors in vivo. J Neurochem, 1998, 70(1): 417-423.
[3].  Vaseghi G, Rabbani M, Hajhashemi V. The CB(1) receptor antagonist, AM281, improves recognition loss induced by naloxone in morphine withdrawal mice. Basic Clin Pharmacol Toxicol, 2012, 111(3): 161-165.
Chemical Properties
| | |
| --- | --- |
| Physical Appearance | A solid |
| Storage | Store at -20°C |
| M.Wt | 557.22 |
| Cas No. | 202463-68-1 |
| Formula | C21H19Cl2IN4O2 |
| Solubility | ≥1.86mg/mL in DMSO with ultrasonic and warming |
| Chemical Name | 1-(2,4-dichlorophenyl)-5-(4-iodophenyl)-4-methyl-N-morpholino-1H-pyrazole-3-carboxamide |
| SDF | Download SDF |
| Canonical SMILES | IC1=CC=C(C=C1)C2=C(C)C(C(NN3CCOCC3)=O)=NN2C(C(Cl)=C4)=CC=C4Cl |
| Shipping Condition | Evaluation sample solution: ship with blue ice. All other available sizes: ship with RT, or blue ice upon request. |
| General tips | For obtaining a higher solubility, please warm the tube at 37°C and shake it in the ultrasonic bath for a while. Stock solution can be stored below -20°C for several months. |
Quality Control
Quality Control & MSDS
View current batch:
Chemical structure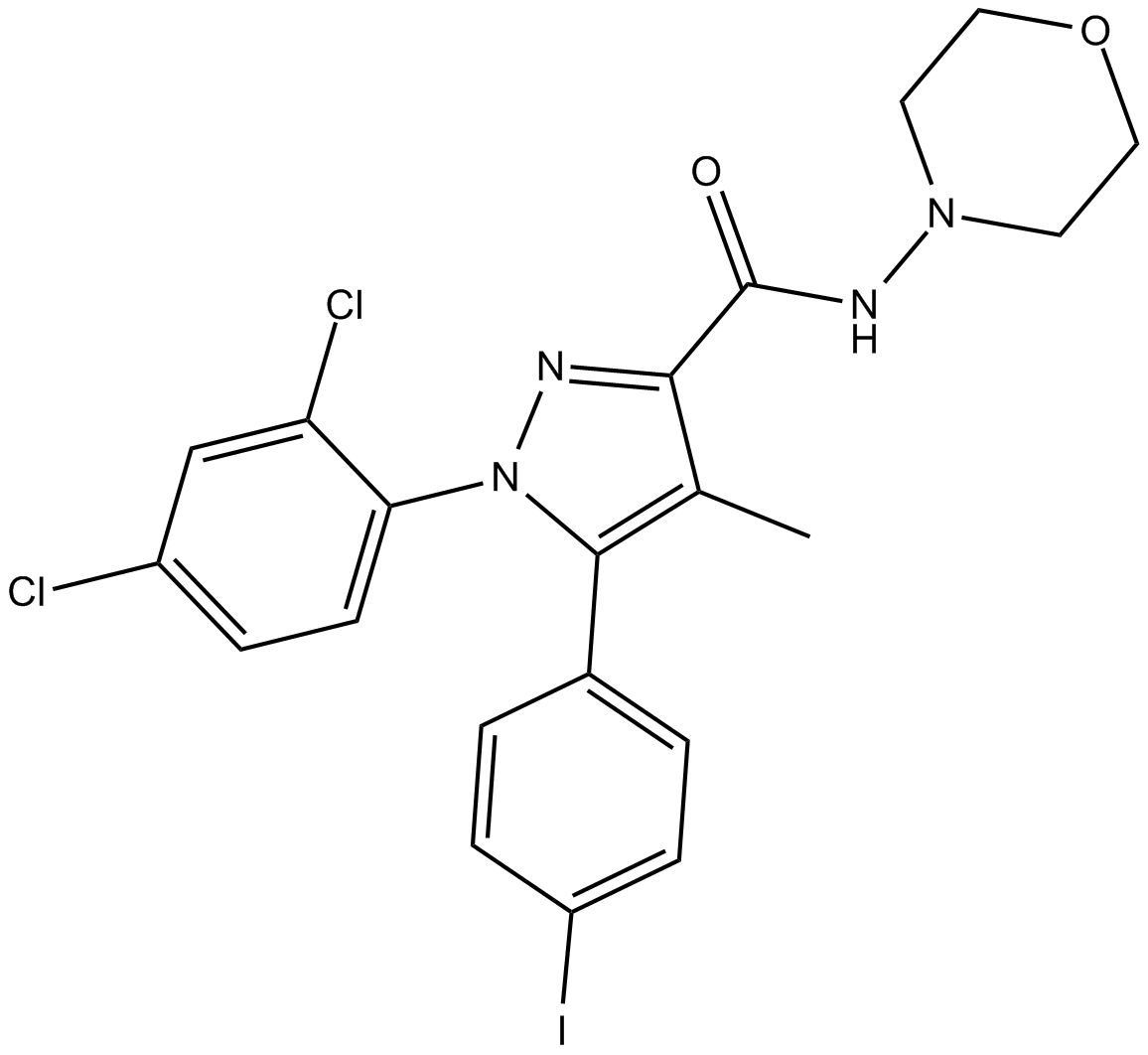 Related Biological Data