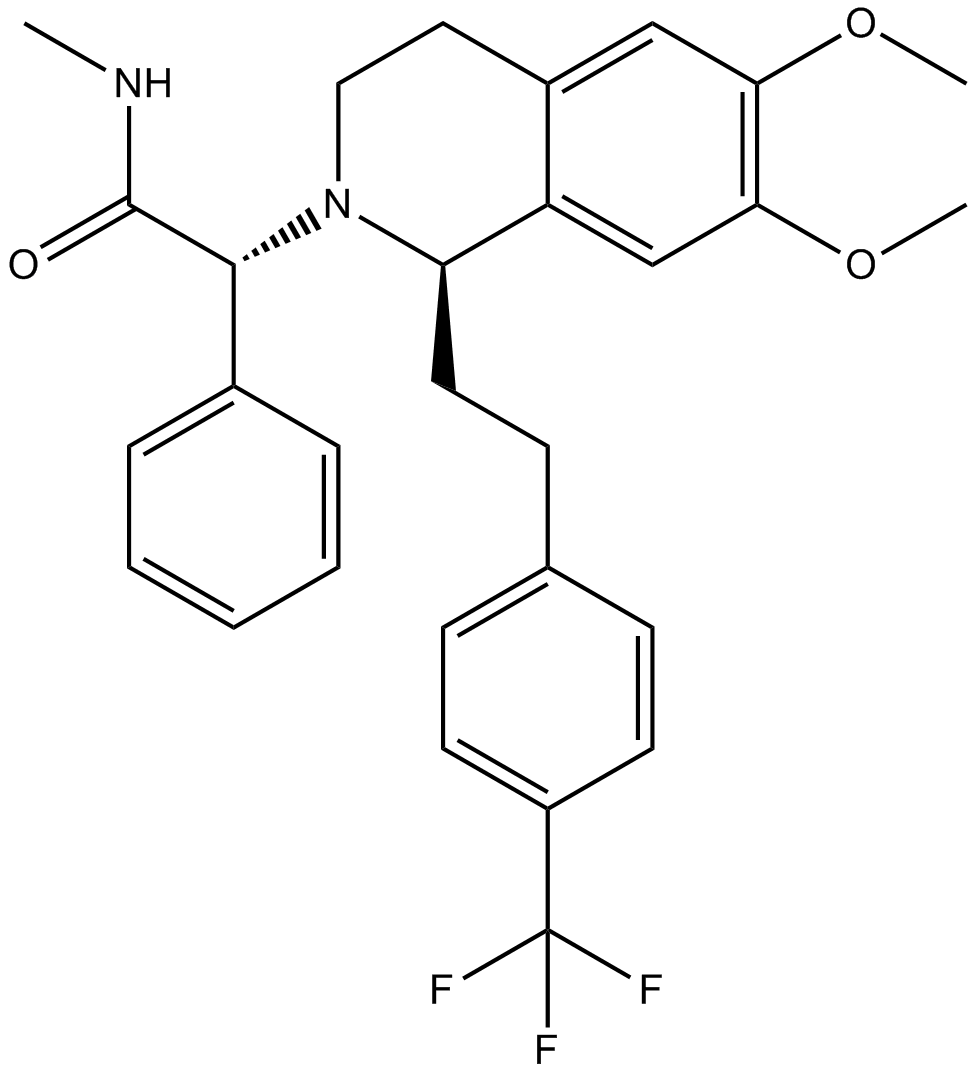 Almorexant is an antagonist of Orexin 1 receptor (OX1R) and Orexin 2 receptor (OX2R) with Kd values of 1.3nM and 0.17nM, respectively [1].
Almorexant is a dual OX antagonist. It inhibits the binding of orexin-A to both OX1R and OX2R with IC50 values of 6.6nM and 3.4nM, respectively. In the inositol phosphates assay, almorexant acts as a competitive antagonist of hOX1R but a noncompetitive-like antagonist of hOX2R. Besides that, almorexant is found to block the increase in locomotor activity induced by ICV orexin in C57BL/6 mice. Furthermore, almorexant shows effects on sleep in multiple species, including man. It reduces the time spent awake and increased the time spent in NREM and REM sleep dose-dependently in normal C57BL/6 mice. These effects on sleep caused by almorexant are mediated by OX2Rs as almorexant has no effect in mice lacking both OX1R and OX2R but has effects in mice lacking only OX1R [1, 2].
References:
[1] Malherbe P, Borroni E, Pinard E, Wettstein JG, Knoflach F. Biochemical and electrophysiological characterization of almorexant, a dual orexin 1 receptor (OX1)/orexin 2 receptor (OX2) antagonist: comparison with selective OX1 and OX2 antagonists. Mol Pharmacol. 2009 Sep;76(3):618-31.
[2] Mang GM1, Dürst T, Bürki H, Imobersteg S, Abramowski D, Schuepbach E, Hoyer D, Fendt M, Gee CE. The dual orexin receptor antagonist almorexant induces sleep and decreases orexin-induced locomotion by blocking orexin 2 receptors. Sleep. 2012 Dec 1;35(12):1625-35.

Chemical Properties
| | |
| --- | --- |
| Storage | Desiccate at -20°C |
| M.Wt | 512.56 |
| Cas No. | 871224-64-5 |
| Formula | C29H31F3N2O3 |
| Solubility | Soluble in DMSO |
| Chemical Name | (2R)-2-[(1S)-6,7-dimethoxy-1-[2-[4-(trifluoromethyl)phenyl]ethyl]-3,4-dihydro-1H-isoquinolin-2-yl]-N-methyl-2-phenylacetamide |
| SDF | Download SDF |
| Canonical SMILES | CNC(=O)C(C1=CC=CC=C1)N2CCC3=CC(=C(C=C3C2CCC4=CC=C(C=C4)C(F)(F)F)OC)OC |
| Shipping Condition | Evaluation sample solution : ship with blue ice.All other available size: ship with RT , or blue ice upon request |
| General tips | For obtaining a higher solubility , please warm the tube at 37 ℃ and shake it in the ultrasonic bath for a while.Stock solution can be stored below -20℃ for several months. |
Quality Control
Quality Control & MSDS
View current batch:
Chemical structure