AG-1478
EGFR inhibitor,potent and selective
Sample solution is provided at 25 µL, 10mM.
Publications citing ApexBio Products
Related Compound Libraries
Quality Control
Quality Control &MSDS
View current batch:
Chemical structure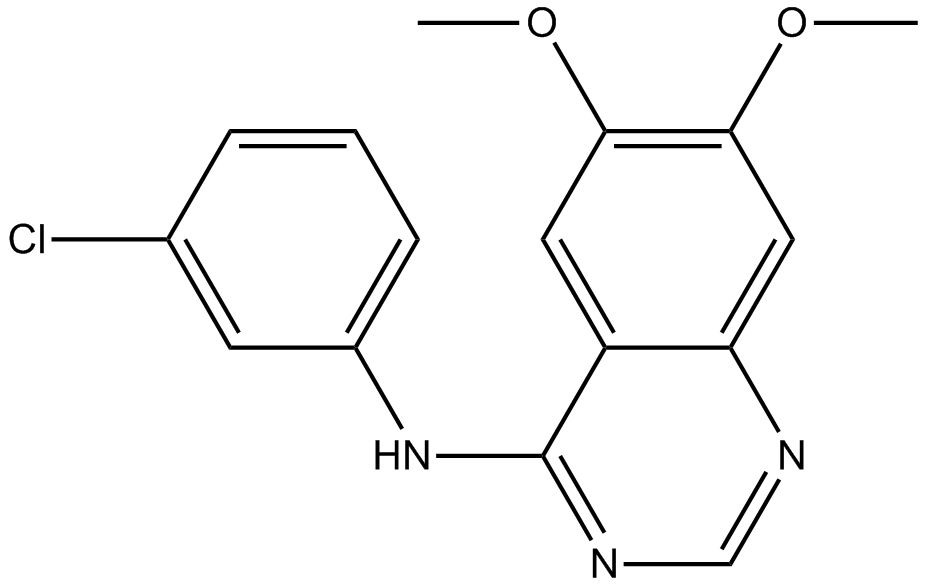 Related Biological Data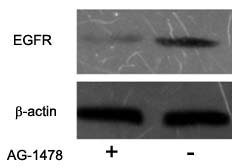 AG1478, an inhibitor of EGFR, decreased the expression level of EGFR as shown in the figure.
Method:Western Blot; Cell Lines:EA.hy926; Concentration:100 μM; Incubation Time:24 h.
Biological Activity
Description
AG-1478 (Tyrphostin AG-1478) is a selective inhibitor of EGFR with an IC50 values of 3 nM.
Targets
EGFR
HER2
PDGFR
IC50
3 nM
>100 μM
>100 μM
Chemical Properties
Cas No.
153436-53-4
SDF
Download SDF
Synonyms
Tyrphostin AG-1478; AG 1478; NSC 693255; AG1478
Chemical Name
N-(3-chlorophenyl)-6,7-dimethoxyquinazolin-4-amine
Canonical SMILES
COC1=C(C=C2C(=C1)C(=NC=N2)NC3=CC(=CC=C3)Cl)OC
Formula
C16H14ClN3O2
M.Wt

315.75

Solubility
>15.8mg/mL in DMSO
Storage
Store at -20°C
General tips
For obtaining a higher solubility , please warm the tube at 37 ℃ and shake it in the ultrasonic bath for a while.Stock solution can be stored below -20℃ for several months.
Shipping Condition
Evaluation sample solution : ship with blue ice
All other available size: ship with RT , or blue ice upon request
Background
AG-1478 is an inhibitor of EGFR which acts on EGF-stimulated Erk1/2 phosphorylation with IC50 value of 10 uM using ovarian cell line Ishikawa [1].
EGFR (epidermal growth factor receptor) belongs to human HER-1 family, which is a cell surface receptor and recognized by EGF-family (epidermal growth factor family). Many studies have shown that EGFR is over-expressed in a variety of solid tumors and its over-expression means bad prognosis for cancer patients [1]. AG1478 works as EGFR kinase inhibitor through blocking EGFR phosphorylation and superoxide anion production [2].
Treating human hepatocellular carcinoma HA22T/VGH cells could reduce its anti-tumor activity compared with control group [3]. When tested with ovarian cancer cell lines CAOV-3 or SKOV-3, EGFR signaling was diminished [4]. When human colorectal SW480 was treated with AG-1478, both EGFR phosphorylation and cell proliferation were reduced [5].
In nu/nu mice model with CAOV-3 cells xenografted, treatment with AG-1478 could diminish EGFR phosphorylation thus limited the growth of tumor [4].
Gong XD, et al. had shown that AG-1478 also could reduce the expression of FOXM1 via FOXO3a using a NSCLC cell lines A549, and the A549 cells showed increased chemosensitivity[6].
References:
1.Takai, N., et al., Synergistic anti-neoplastic effect of AG1478 in combination with cisplatin or paclitaxel on human endometrial and ovarian cancer cells. Mol Med Rep, 2010. 3(3): p. 479-84.
2.D'Anneo, A., et al., Parthenolide induces superoxide anion production by stimulating EGF receptor in MDA-MB-231 breast cancer cells. Int J Oncol, 2013. 43(6): p. 1895-900.
3.Bondi, M.L., et al., Entrapment of an EGFR inhibitor into nanostructured lipid carriers (NLC) improves its antitumor activity against human hepatocarcinoma cells. J Nanobiotechnology, 2014. 12(21): p. 1477-3155.
4.Yu, Y., et al., Synergistic effects of combined platelet-activating factor receptor and epidermal growth factor receptor targeting in ovarian cancer cells. J Hematol Oncol, 2014. 7(1): p. 1756-8722.
5.Yagublu, V., et al., Combination of the EGFR tyrosine kinase inhibitor AG1478 and 5-FU: no synergistic effect on EGFR phosphorylation, cell proliferation and apoptosis induction. Anticancer Res, 2013. 33(9): p. 3753-8.
6.Gong, X.D., et al., [Effects of AG1478 on the expression of FOXM1 gene via FOXO3a in non-small cell lung cancer cells]. Zhonghua Zhong Liu Za Zhi, 2013. 35(8): p. 572-8.