AG-14361
Potent PARP1 inhibitor
Sample solution is provided at 25 µL, 10mM.
Publications citing ApexBio Products
Related Compound Libraries
Quality Control
Quality Control & MSDS
View current batch:
Chemical structure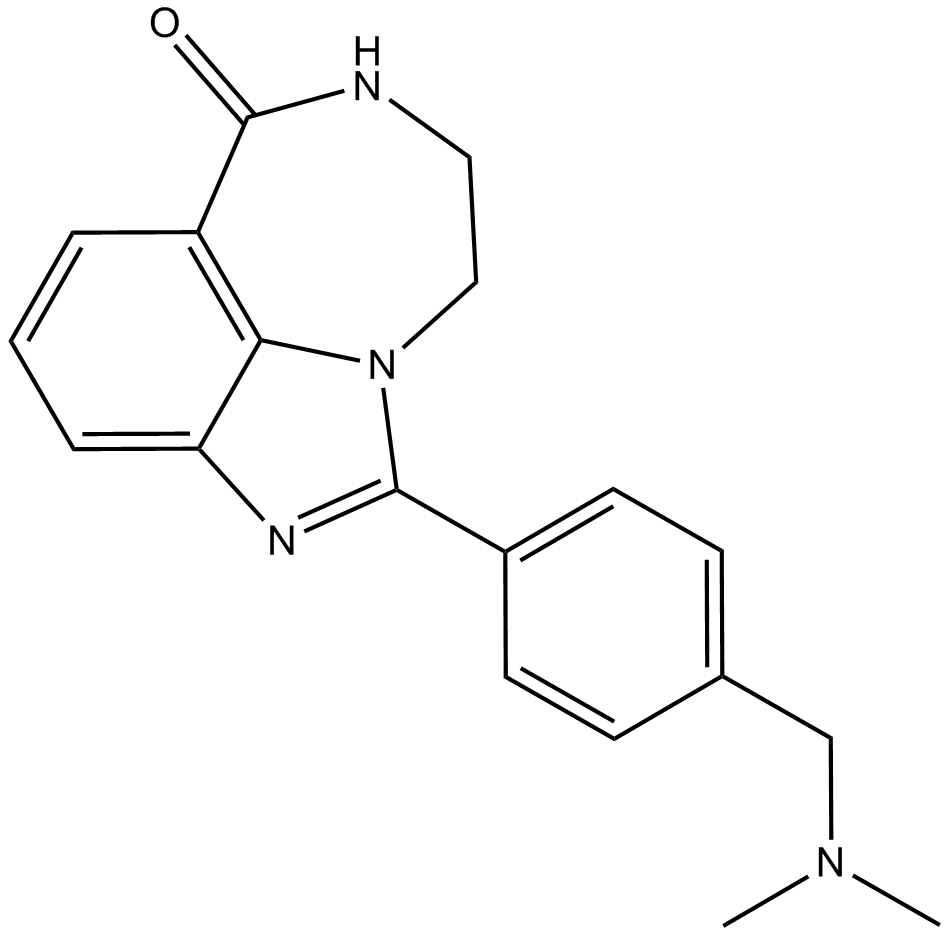 Biological Activity
AG14361 is a potent inhibitor of PARP1 with Ki of <5 nM.
Targets
PARP1
IC50
< 5 nM (Ki)
Chemical Properties
Cas No.
328543-09-5
SDF
Download SDF
Chemical Name
1-(4-((dimethylamino)methyl)phenyl)-8,9-dihydro-2,7,9a-triazabenzo[cd]azulen-6(7H)-one
Canonical SMILES
O=C1N([H])C([H])([H])C([H])([H])N2C3=C1C([H])=C([H])C([H])=C3N=C2C(C([H])=C4[H])=C([H])C([H])=C4C([H])([H])N(C([H])([H])[H])C([H])([H])[H]
Formula
C19H20N4O
M.Wt

320.39

Solubility
>16mg/mL in DMSO
Storage
Store at -20°C
General tips
No
Shipping Condition
No
Background
AG-14361 is a selective inhibitor of PARP-1 with Ki50 value <5 nM [1].
PARP1 is a member of PRAP family and plays an important role in many cellular processes, such as DNA repair, programmed cell death. It has been revealed that PARP1 is abnormally expressed in a variety of cancers and many PARP inhibitors have been developed as the anti-tumor drugs [1] [2] [3, 4].
AG-14361 is a potent PARP-1 inhibitor. When exposed HR and BRCA2-defective cells and parental cells to AG-14361, HR-defective cells were hypersensitive to the AG-14361 even at non-cytotoxic concentrations and lacking BRCA2 made the cells more sensitive to AG-14361 [5]. In human K562 cells, AG14361 treatment for 16 hours resulted in significant (~2-fold) potentiation of camptothecin-induced growth inhibition (GI50, 16 hours, camptothecin + AG14361 2.4 ± 0.1 nmol/L), cytotoxicity (LC50, camptothecin + AG14361 2.77 ± 0.55 nmol/L) and DNA single-strand breaks via inhibiting PARP-1 [1]. When tested with MMR-proficient (HCT-Ch3, A2780, and CP70-ch3) and MMR-deficient (HCT116, CP70, and CP70-ch2) cells, MMR-proficient cells were more sensitivity to temozolomide compared with MMR-deficient cells after exposed to AG-14361 which inhibited PARP1 activity [2].
In mouse model xenografted with BRCA2-deficient and BRCA-2 proficient tumor cells, BRCA2 deficiency group had more response even completely regressed tumor compared with BRCA-2 proficient group when treated with AG-14361 [5].
References:
[1]. Smith, L.M., et al., The novel poly(ADP-Ribose) polymerase inhibitor, AG14361, sensitizes cells to topoisomerase I poisons by increasing the persistence of DNA strand breaks. Clin Cancer Res, 2005. 11(23): p. 8449-57.
[2]. Curtin, N.J., et al., Novel poly(ADP-ribose) polymerase-1 inhibitor, AG14361, restores sensitivity to temozolomide in mismatch repair-deficient cells. Clin Cancer Res, 2004. 10(3): p. 881-9.
[3]. Calabrese, C.R., et al., Anticancer chemosensitization and radiosensitization by the novel poly(ADP-ribose) polymerase-1 inhibitor AG14361. J Natl Cancer Inst, 2004. 96(1): p. 56-67.
[4]. Veuger, S.J., et al., Radiosensitization and DNA repair inhibition by the combined use of novel inhibitors of DNA-dependent protein kinase and poly(ADP-ribose) polymerase-1. Cancer Res, 2003. 63(18): p. 6008-15.
[5]. Kyle, S., et al., Exploiting the Achilles heel of cancer: the therapeutic potential of poly(ADP-ribose) polymerase inhibitors in BRCA2-defective cancer. Br J Radiol, 2008. 81 Spec No 1: p. S6-11.