2-Methoxyestradiol (2-MeOE2)
Apoptotic, antiproliferative and antiangiogenic agent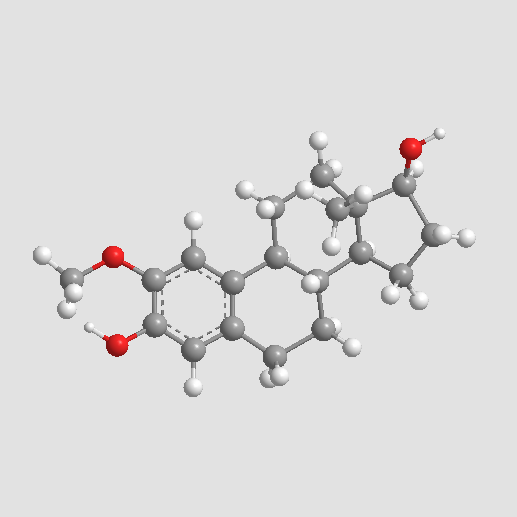 Sample solution is provided at 25 µL, 10mM.
Publications citing ApexBio Products
Related Compound Libraries
Quality Control
Quality Control & MSDS
View current batch:
Chemical structure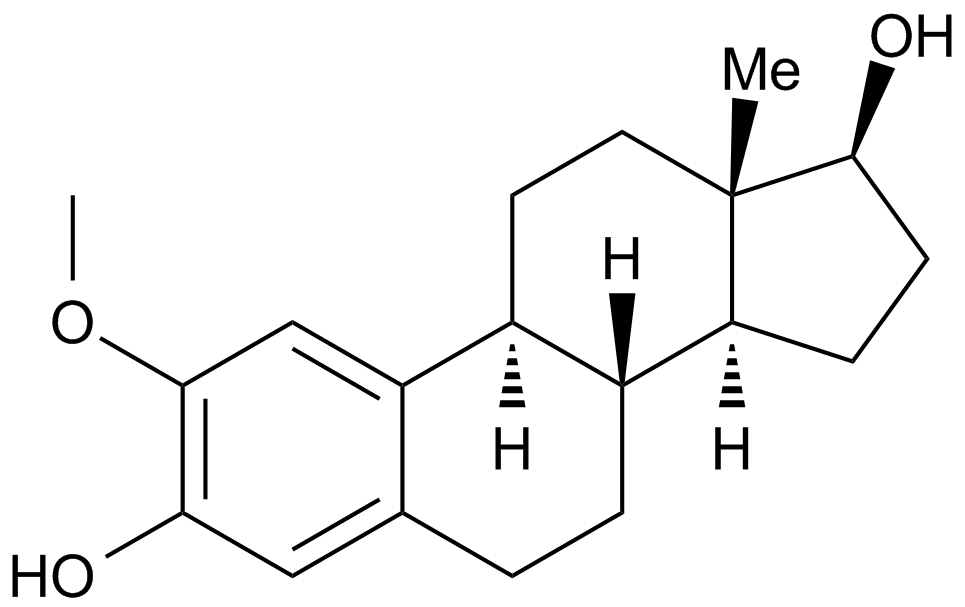 Biological Activity
Description
2-Methoxyestradiol is a natural metabolite of estradiol.
Targets
angiogenesis
IC50
Chemical Properties
Cas No.
362-07-2
SDF
Download SDF
Synonyms
2-methoxy Estradiol
Chemical Name
(8R,9S,13S,14S,17S)-2-methoxy-13-methyl-6,7,8,9,11,12,14,15,16,17-decahydrocyclopenta[a]phenanthrene-3,17-diol
Canonical SMILES
CC12CCC3C(C1CCC2O)CCC4=CC(=C(C=C34)OC)O
Formula
C19H26O3
M.Wt

302.41

Solubility
>15.3mg/mL in DMSO
Storage
Store at -20°C
General tips
N/A
Shipping Condition
N/A
Background
2-Methoxyestradiol (2-MeOE2), an endogenous metabolite of 17β-estradiol (E2), is an inhibitor of microtubule assembly that inhibits the polymerization of tubulin and interferes with mitotic spindle dynamics leading to the blockage of mitosis of human cancer cells which lack estrogen receptors in metaphase. 2-MeOE2 is also an inhibitor of tumor growth and angiogenesis. Study results have shown that 2-MeOE2 induces mammalian cell transformation and genotoxicity in Syrian hamster embryo (SHE) fibroblasts through concentration-dependent inhibition of cell growth. Moreover, 2-MeOE2 has demonstrated anti-proliferative activity against estrogen-responsive breast cancer cell line MCF-7 and subsequent inhibition of the growth of tumors subcutaneously inoculated in mice.
Reference
Takeki Tsutsui, Yukiko Tamura, Makoto Hagiwara, Takashi Miyachi, Hirohito Hikiba, Chikahiro Kubo and J. Carl Barret. Induction of mammalian cell transformation and genotoxicity by 2-methoxyestradiol, an endogenous metabolite of estrogen. Carcinogensis 2000; 21(4): 735-740
Hesham Attalla, Tomi P. Makela, Herman Adlercreutz and Leif C. Anderson. 2-Methoxyestradiol arrests cells in mitosis without depolymerizing tubulin. BIOCHEMICAL AND BIOPHYSICAL RESEARCH COMMUNICATIONS 1996; 228: 467-473